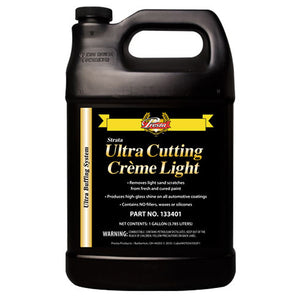 Ultra Cutting Creme Light - Gallon
The perfect compound for light damage and swirls. Less aggressive than our best-selling Ultra Cutting Creme. Follow with Presta Swirl Remover for a flawless finish in just two steps.
Ultra Cutting Creme Light is designed to remove 2000-grit and finer sand scratches from any painted surface - from soft, freshly painted to fully cured. 
Features: 
Contains NO fillers, waxes or silicones
Designed for use with a high-speed, rotary buffer.
For best results use with Presta Yellow Wool Buffing Pad.
Follow with Presta Swirl Remover to maximize gloss and shine.
Cleans up easily – water-based formula.
Specifications:
Type: Restoration & Compounds
Box Dimensions: 5"H x 7"W x 12"L WT: 9.3 lbs
UPC: 075929434014