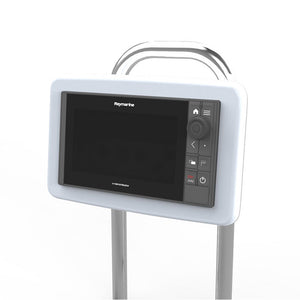 Scanpod Helm Pod Uncut for 9" Displays
With great design features, the Scanstrut Helm Pod is a perfect choice for all cockpit configurations.
With options to fit radar displays, chartplotters and standard navigation instruments, the choice is yours!
For Displays & Standard Instruments:
Fits up to 9" displays
Can accommodate 3 or 4 standard instruments (e.g. ST60)
Usable face 13.2H x 8.14W
Features:
UNIVERSAL HELM FIXING
Fits pedestal rails from 25mm to 33.7mm (0.98″ – 1.33″) diameter. Using a unique clamping system, the Deep Pod's can fit rail widths from 178mm (7") upwards.*
SECURE & WATERTIGHT INSTALL
Saddle system supports the stainless tubing enabling a secure and rigid fit onto any pedestal and also ensures a watertight seal at cable entry.
NO DRILL FIXING KIT
Customised U-bolts fit around rail and through the saddles into the back of the pod eliminating the need for time consuming and awkward drilling of the stainless rail.
HASSLE FREE INSTALL & SERVICE
Fixings fit from back to front cutting their threads into injection moulded ABS inserts designed into the Pod front. This design allows for a quick and safe install and repeat servicing.
INCREASED PROTECTION
Pod seal is manufactured from a high tear strength silicone, it has a very high resistance to heat and UV so you can have confidence that it won't deteriorate over time.
SUPPLIED UNCUT
As standard you will receive your Scanpod uncut. For larger orders, a factory cutting service is available.
Specifications:
Usable Face: 13.2"W x 8.14"H
Mounting Style: Pedestal
Cut/Uncut: Uncut
Box Dimensions: 8"H x 10"W x 15"L WT: 5.5 lbs
UPC: 5060114797277