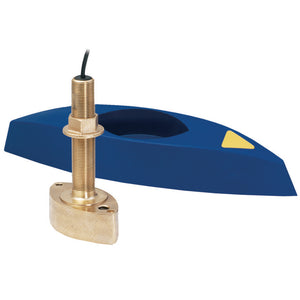 B45-DT-HB 600W Thru-Hull Transducer w/Fairing Block & Humminbird #9 Connector
The B45 is our smallest and most economical, dual-frequency, bronze, stem transducer. Its streamlined shape and High Performance fairing block deflects aerated water from the transducer's face for strong return echoes and clear display images. 
Features:
Bronze housing
Depth and Temperature
Recommended for planing-hull powerboats and cruising sailboats up to 9 m (30')
Good sensitivity in a compact housing
Fast-response water-temperature sensor provides ±0.2°C (±0.1°F)
High-Performance Fairing included
Usable Shaft Length: 92 mm (3.62")
Standard fairing block 
Frequency: 50/200 kHz
Maximum Depth Range:
50 kHz—235 m to 353 m (800' to 1,200')
200 kHz—118 m to 206 m (400' to 700')
Cone: 50 kHz—45°, 200 kHz—12°
RMS Power: 600 W
This product may not be returned to the original point of purchase. Please contact the manufacturer directly with any issues or concerns.
Specifications:
Mounting Style: Thru-Hull
Box Dimensions: 4"H x 12"W x 16"L WT: 4.6 lbs
UPC: 801769000177
Brochure (pdf)