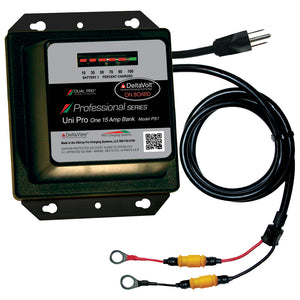 Professional Series Battery Charger - 15A - 1-Bank - 12V
The Professional Series chargers have set the standard in the marine industry for more than a decade. They are known as the safest, most reliable, and best performing battery chargers in the industry. Across a broad range of fishing and recreational boats, Pro Charging Systems keeps boaters on the water longer while extending the life of their batteries. Dual ProTM charging technology has been and continues to be the choice of over 50 boat manufacturers and professional fishermen on the B.A.S.S. and FLW tournament circuit.
Battery Charging System Designed for Use On Land and in Fresh and Salt Water
The "Green" Charger: Totally "Repairable" Not a Throw-Away
Unmatched Performance, Reliability, Safety and Quality
TROUBLE FREE – Just Plug It In and Forget It!
Join Over 750,000 of Our Satisfied Customers!
Fully Automatic and Totally Waterproof
Features:
Approved for Wet Cell and AGM batteries
Models also available for Gelled Electrolyte batteries
Designed for use in fresh and saltwater
DeltaVolt® Intuitive Charging Technology
Waterproof, dependable, rugged construction
Independent outputs
Fully automatic / multi stage charging
Zero spark technology
Battery maintenance mode
On-board diagnostic codes
Temperature compensated
Advanced microprocessor controlled
Battery systems available: 12V – 48V
LED lights indicate the state of charge
Reverse polarity protected
No installation restrictions
FCC Parts A & B interference compliant
DC charge cables = 5' AC power cord = 3'
Approved and meets ISO 8846 Marine standards
Ignition protected (US Coast Guard 33 CFR 183.410
May be used in many types of sporting applications including:
Inland Watercraft
Salt Water Watercraft
Motorcycles
Golf Carts
Utility Vehicles…
This product may not be returned to the original point of purchase. Please contact the manufacturer directly with any issues or concerns.
Specifications:
Charger Output Voltage: 12v
Charger Output - Amps: 15a
Charging Banks: 1
Portable: No
Charger Input - Voltage: 120v
Box Dimensions: 10"H x 11"W x 11"L WT: 10 lbs
UPC: 738562000021
Brochure (pdf)