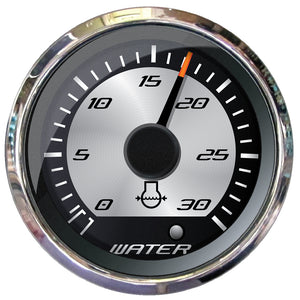 Platinum 2" Water Pressure Gauge - 30 PSI

Faria Beede's Platinum Series Instruments feature spun aluminum gauge dials with custom graphics and a polished stainless steel bezel providing a rugged, elegant look.  
All Platinum Series gauges feature Faria's revolutionary domed glass Fog-Resistant lens. These lenses shed condensation and resists scratching and other types of fouling common in the marine environment.  
A pressure gauge operates by sending a low amperage current through the gauges's meter to ground via a sending unit with variable resistance. The resistance of the sending units increase or decrease with the changes in pressure, temperature, etc...
As the sender's resistance varies, the amount of current allowed to flow through it to ground changes and the meter deflects, showing the change in pressure.
2"- Hole Size: 2.0625" (53mm)
Specifications:
Domed Glass Anti-fog, Scratch Resistant Lens
Stainless Steel Bezel
Blue LED Illuminating around the Perimeter of the Dial
Illuminated Backlit Fire-Orange Tip Pointer
Factory P/N OP1177
*Sold as an Individual
*Gauge Cover not Included
This product may not be returned to the original point of purchase. Please contact the manufacturer directly with any issues or concerns.
Specifications:
Series: Platinum
Gauge Type: Water Pressure
Gauge Size: 2"
Box Set: No
Voltage - Input Range (Volts): 12/24 V
Box Dimensions: 5"H x 6"W x 6"L WT: 0.58 lbs
UPC: 759266220232
Brochure (pdf)