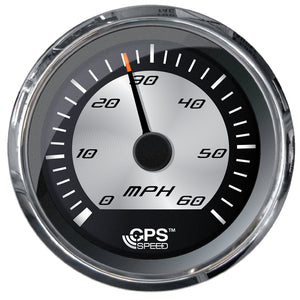 Platinum 4" Speedometer - 60MPH - GPS (Studded)
Faria Beede's Platinum Series Instruments feature spun aluminum gauge dials with custom graphics and a polished stainless steel bezel providing a rugged, elegant look.  
All Platinum Series gauges feature Faria's revolutionary domed glass Fog-Resistant lens. These lenses shed condensation and resists scratching and other types of fouling common in the marine environment. 
 GPS Speedometer is a drop in replacement for your current speedometer to match your existing instrument dash.

GPS information is gathered from an internal GPS antenna. No external antenna required. The Faria GPS Speedometer uses a highly accurate 48 channel GPS receiver. You can be sure that the Faria GPS Speedometer is giving you the most accurate GPS information available on the market today.

Course Over Ground (COG) and actual heading (compass heading over ground) are displayed on the optional digital LCD.

Speed data is shown by an analog pointer. This pointer is driven by a digital stepper motor for increased accuracy and minimized pointer bounce during vessel operation.
4" - Hole size: 3.375" (85mm)
Specifications:
Domed Glass Anti-fog, Scratch Resistant Lens
Stainless Steel Bezel
Blue LED Illuminating around the Perimeter of the Dial
Illuminated Backlit Fire-Orange Tip Pointer
No external GPS antenna required
Ultra fast Satellite acquisition time (TTFF) 1 second from Hot start
Speed Accuracy of +/- 1 MPH
Heading Accuracy of +/- 1 Degree
Digital stepper motor driven pointers
Ideal replacement for speed sensing devices (pitot tube and paddle wheel) that fail over time
Perfect for slow moving vessels where pitot tubes just don't work
Deutsch connectors
Factory P/N SGP128
*Sold as an Individual
*Gauge Cover not Included
This product may not be returned to the original point of purchase. Please contact the manufacturer directly with any issues or concerns.
Specifications:
Box Set: No
Gauge Type: Speedometer
Gauge Size: 4"
Voltage - Input Range (Volts): 12/24 V
Series: Platinum
Box Dimensions: 5"H x 5"W x 6"L WT: 0.55 lbs
UPC: 759266220102
Brochure (pdf)