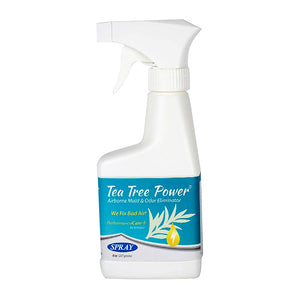 Tea Tree Power Spray - 8oz
Tea Tree Power is the all-natural marine grade odor eliminator containing a proprietary blend of 100% Australian Tea Tree Oil and other natural ingredients. Its' powerful, yet pleasant smelling vapors, diffuse throughout your cabin and lockers, attacking and eliminating the source of unpleasant odors caused by mold, mildew, and bacteria.
Not a cover-up fragrance, Tea Tree Power Spray starts controlling odors on contact providing continuous, natural, and long-lasting odor control for up to 3 months. It penetrates porous materials (cushions, carpets, and upholstery) delivering a deep cleaning with enduring odor protection. 
The 8 oz. spray works anywhere to clean and disinfect surfaces naturally. A spritz or two in your head and storage lockers will work instantly to break down and eliminate any unpleasant odors. Attack the mold and mildew on the hard surfaces in your cabin by spraying, letting sit for a few minutes, and wiping clean. It will work on most porous surfaces — carpets, cushions, upholstery — to penetrate and deliver a deep antibacterial cleaning. Spray on your kitchen counters and in your bathroom to instantly clean and disinfect. Follow up with a jar of the appropriate size of Tea Tree Power® Gel to give continuing, long-lasting protection.
Specifications:
Type: Fabric & upholstery
Box Dimensions: 2"H x 3"W x 8"L WT: 0.65 lbs
UPC: 028026191199