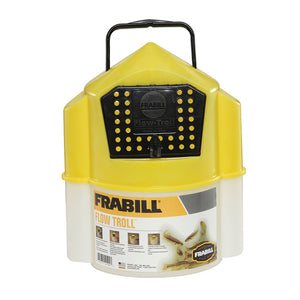 Flow Troll® Bucket - 6 Quart
The original and still America's number one selling minnow bucket. Designed to be pulled behind the boat or used when wading. Hydrodynamic shape features balanced keep to keep bucket floating with bait door facing up. Constantly aerates bait as it is pulled through the water.
Features:
Self-closing lid with locking door
Hydrodynamic shape
6 quart capacity
Weighted
11.8" x 9.5" x 7.3"
Specifications:
Width: 7"
Length (Inches): 10"
Height: 12"
Box Dimensions: 7"H x 10"W x 12"L WT: 1.35 lbs
UPC: 082271145017