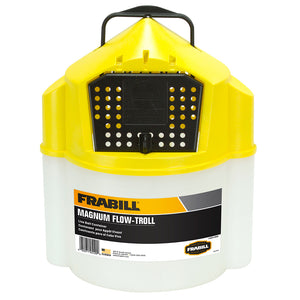 Magnum Flow Troll® Bucket - 10 Quart
Specifically designed and tested to keep saltwater baitfish healthy and active, these pumps can convert any size cooler or livewell into an oxygen-rich aquarium.
The Magnum Flow-Troll® is a beefier version of its predecessor. It holds up to 10 quarts of water and like the original, Magnum features a self-closing lid with locking door. This extremely durable bait container is an economical investment that will vent both your minnows and frustrations.
Features:
Larger 10 quart size
Carry handle
Self-closing lid with locking door
Hydrodynamic shape
Weighted
11.5" x 9" x 14"
Specifications:
Width: 9"
Length (Inches): 11"
Height: 14"
Box Dimensions: 9"H x 11"W x 14"L WT: 1.7 lbs
UPC: 082271451200