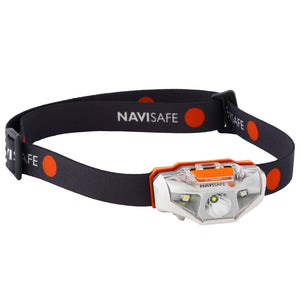 IPX6 Waterproof LED Headlamp
The Navisafe Headlamp contains all functions needed to make it the Sailor's first choice: a red light to preserve night vision, a white floodlight to light the whole sail, and an ultra-powerful distance light shining up to 70M plus tilt function for exact and comfortable beam positioning. It weighs only 68g including the single AA Battery. The Headlamp is IPX6 classified and withstands heavy splashing and rain.
Navisafe Smart Mode Switch:
Press and hold for 0.5s to activate the red light. If the red light is ON for more than 3 PRESS the switch again and the light turns OFF
To activate the white light PRESS and HOLD for 0.5s and activate the red light, PRESS again quickly and enter into white light mode
PRESS again quickly to get to the next mode
In ANY mode: PRESS and HOLD for 1.5s to turn light OFF
Examples of Usage:
The Navisafe Headlamp is the best choice when a hands free operation is needed, for any kind of repair or maintenance on deck. Comfortable reading of the map or a book, either within the red light mode, preserving the night vision or within the 7 lumen Floodlight mode, making it bright and comfortable to read.
While fishing, leaving the hands free to set up lines, organize gear or all kinds of further use.
Specifications:
Ultra bright CREE LED headlamp
5 lighting modes incl. red light
Small and light - only 48g (without battery)
Multi-position tilt function
IPX6 waterproof
Powered by one AA battery
Size: L = 63mm, W = 37mm, H = 31mm
Weight (net): 48g
Modes / approximate burn time:
Red LED floodlight, 7 Lumen / 20 hrs
White LED floodlight, 14 Lumen / 14 hrs
White CREE LED distance light, 30 Lumen / 12 hrs
White CREE LED distance light, 110 Lumen / 8 hrs
White CREE LED flash light / 50 hrs
Specifications:
Battery Type: AA
Box Dimensions: 2"H x 2"W x 7"L WT: 0.05 lbs
UPC: 814154018770