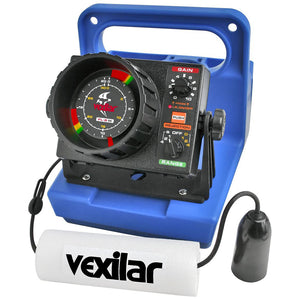 FL-8SE GENZ Pack w/19º Ice Ducer
Years in the making, this classic design has been improved even more by ice fishing legend Dave Genz. Dave has made his Blue Box" nearly indestructible so it will last for years of hard use. Genz redesigned the battery storage compartment and added a universal transducer holder system. The Blue Box can also accept the full line of Vexilar accessories like a Battery Status Indictor, Vexilar Flex Light or even a Dual Beam Ice-Ducer transducer. The Blue Box fits on top of a five gallon bucket for easy access and handling while fishing. Available with the Vexilar FL-18 or FL-8se. Each Genz Pack Combo comes with a 12 volt, 7 amp-hour battery with charger and an Ice-Ducer transducer. The Genz Pack comes completely assembled and ready to fish with. It also includes an instructional video. This classic FL-8se flasher is truly legendary. The worlds most popular three-color sonar flasher, the FL-8se is still one of the best all-around flasher/sonar designs. The hallmark three-color display shows weak targets in green, medium strength targets in orange and strong bottom targets in red. 525 segments of resolution, super bright LEDs and 10 interference rejection settings make the FL-8se a great year-round flasher/fish finder.
Features
Pre-drilled holes for optional accessories.
Easy access semi-enclosed battery compartment.
Built-in transducer holder fits all sizes of Ice-Ducers.
Specially designed base fits on top of a five gallon bucket.
Pre-tapped transducer support eye-bolt hole.
Large cable storage compartment.
Target ID of down to 1"
Three-color LED display
Interference Rejection technology with 10 step adjustment to knock-out interference from another nearby depth finder
Six depth ranges** (20, 30, 40, 60, 80, 120)
Adjustable sensitivity control
Weather-proof, high impact case
Transducer included; several transducer options available
Backlit scale decal and super bright LED display
Two-year warranty (One-year on battery)
Specifications
Frequency: 200 kHz
Display resolution: 525 segments
Current draw: 200 ma at 12V DC
Power output: 400 watts peak-to-peak (50 watts RMS)

WARNING: This product can expose you to chemicals which are known to the State of California to cause cancer, birth defects or other reproductive harm. For more information go to P65Warnings.ca.gov.