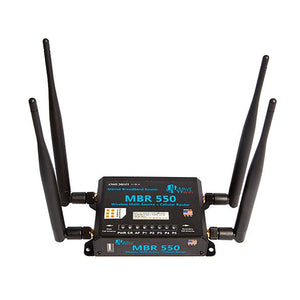 MBR 550 Network Router w/Cellular
The Wave WiFI MBR 550 has an internal access point and is a Multi-Source Failover Router.  This means that it can manage multiple sources at a time as well as produce the wireless signal to distribute the data to wireless devices.  The MBR 550 will give you the ability to manage these sources from one easy to access browser based page.
From this page you can manage any additional Wave WiFi devices such as access points and receivers, as well as third party satellite or cell devices.
With the Wave WiFi MBR 550 you will enjoy the ability to travel with cell functionality built in.  The MBR 550 comes with a SIM slot for SIM activated Cell Data, and has all the other great features of the MBR 500.
Also capable of supporting "Guest Networks." This means that any devices connected to the "Guest Network" will not have access to the MBR 550 manage page.  They will only be able to use the data provided by the MBR router and not be able to manipulate it.
In the Box:
MBR 550 Router
Two (2) Access point antennas 
Two (2) Cellular antennas
One (1) 12VDC power cable
One (1) Ethernet cable (Category 5) 
Quick start guide & manual
*Sold as an Individual
This product may not be returned to the original point of purchase. Please contact the manufacturer directly with any issues or concerns.
Specifications:
Speed - Max: 2.4 GHz
Wireless: Yes
Box Dimensions: 3"H x 8"W x 10"L WT: 1.7 lbs
UPC: 793072875477
Quick Guide (pdf)
Brochure (pdf)