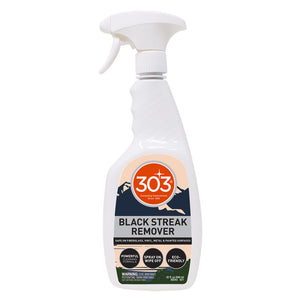 Black Streak Remover - 32oz
303® Black Streak Remover will keep the siding of your RV looking like new by removing unsightly black streaks with ease. These black streaks occur naturally when dirt and rubber material from an RV's roof come off after miles of traveling at high speeds. The powerful formula in 303® Black Streak Remover pulls this material and dirt from the surface and allows it to be wiped away, leaving a clean, streak-free finish.
Features:
Removes hard-to-clean black streaks and dirt
Leaves a clean, streak-free finish
Biodegradable and marine safe
Great for use on RVs, Campers, Pop-Ups, Motorhomes, and Boats
Safe on fiberglass, vinyl, metal, and painted surfaces
Directions:
Shake well before use. Use only on dry surfaces. Spray the product directly on the black streaks. Allow the product to remain on the surface for 2-3 minutes. Gently scrub and then wipe off with a wet towel, microfiber, or sponge. For stubborn stains, repeat as needed.