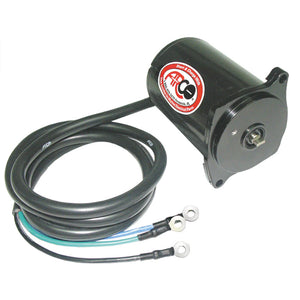 Original Equipment Quality Replacement Tilt Trim Motor for Mercury/Mariner Outboards with Design II 3 RAM
Replacement outboard tilt trim motor that will fit Mercury/Mariner outboards w/Design II 3 ram, three-wire trim units, Hollow-hex shaft W/AFT FILL RESERVOIR, 3-wire connection, 2-bolt mount, Shaft adaptor, and O-ring included, Ring Terminal Ends. 
ARCO advises cleaning all connections: A corroded connection creates resistance, lowering the amperage required to operate the motor.
Features:
Tilt trim motors are dynamically tested to ensure out-of-the-box performance 
Motor shafts induction case hardened at bearing surfaces for superior wear resistance 
Epoxy Powder coated for maximum insulation protection
Warranty Information:
When properly installed, all ARCO products are warrantied against defects in materials and workmanship for 12 months for leisure use and 90 days for commercial or racing applications. 
Add an extra year of warranty to your rotating electric ARCO product (Tilt/Trim Motors, Alternators, Outboard Starters, and Inboard Starters) when you register your product within 30 days of purchase. You can register your product by visiting arcomarine.com/product-registration 
Replaces:
MERCURY Tilt Trim Motor 811628
MERCURY Tilt Trim Motor 828708A1
MERCURY Tilt Trim Motor 878265A6
SIERRA Tilt Trim Motor 18-6774
This product may not be returned to the original point of purchase. Please contact the manufacturer directly with any issues or concerns.