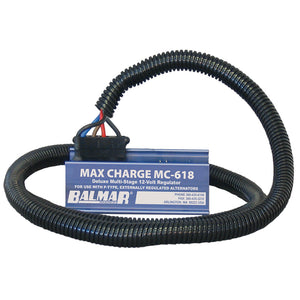 Max Charge MC-618 Regulator 12V with Harness Multi-Stage
The MC-618-H premium 12-volt multi-stage voltage regulator provides the ultimate in charging safety and control. Includes wiring harness. 
Features:
Intelligent multi-stage regulation.
Digital numeric LED display.
Epoxy-encapsulated circuitry.
For use with 12 volt systems
Wiring harness included
Can be used to drive twin alternator installations.
For use with P-type externally regulated alternators
Dash lamp and auxiliary lamp terminals
Small engine mode
Magnetic programming tool included
LiFePo4 (lithium) program
Optional alternator and battery temperature sensors sold separately
This product may not be returned to the original point of purchase. Please contact the manufacturer directly with any issues or concerns.