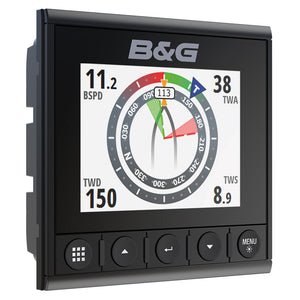 Triton² Digital Display
Multi-purpose sailing instrument and autopilot display with a 4.1" color screen, optically bonded for zero condensation and featuring trans-flective LCD technology for exceptional contrast and visibility in all lighting conditions. 8mm mounting height matches other B&G MFD's and system component.
The full-colour Triton² Display provides sailors with a clear visual representation of key instrument data including Speed, Depth, Wind, Heading, AIS targets, GPS data and more.
An Optically Bonded display means absolutely zero condensation or fogging, while transflective LCD technology provides exceptional contrast and visibility - day or night - while consuming less power than traditional backlight-only displays. The flexible, NMEA 2000® certified, Triton² Display can be integrated into a wider navigation system and also be combined with a Triton² Pilot keypad and NAC autopilot computer to create a complete autopilot control system, featuring B&G sail-specific autopilot steering algorithms.
Features:
Optical Bonding Sporting an Optically Bonded 4.1" LCD display, Triton² allows you to see clearly in all conditions with its large clear color display 100% free from condensation or fogging
Efficient LCD Technology: Transflective LCD technology uses reflected ambient light to enhance day-time visibility, providing the clearest sailing dedicated display available. LED backlighting provides highly adjustable illumination when required, making Triton² exceptionally efficient and extending time available from your battery capacity
Easy to Use: Triton² provides simple on-screen menus controlled by soft-touch and reliable waterproof buttons
Intuitive design makes it easy to configure and use your display

Low Profile Design: At just 8mm thin the Triton² instrument adds a sleek look to any boat
Nearly half the dimension of its thick competitors, Triton² won't get in the way, catch ropes or offend the eye!

NMEA 2000® Certified: NMEA 2000 certification means you can be confident when adding Triton² to an existing NMEA 2000 system. NMEA 2000 certification also opens up a wide variety of future expansion options for your Triton² system
Easy Installation: A straight-forward front mounting method and a clip-on bezel over the (4) mounting screws combine with a single NMEA 2000 connection carrying both power and networked data

Autopilot Integration: Triton² will display B&G Pilot data on a clear status screen
Specifications:
Dimensions: 118 x 115 x 28mm (4.6 x 4.5 x 1.1")
Weight: 0.32 kg (0.7 lbs)

Power Consumption: 1.8 Watts (MAX)
Network Load: 3 LEN

Color: Black
Display Size: 4.1" (diagonal). 4:3 Aspect ratio

Display Type: Transmissive TFT-LCD, bonded. White LED backlight
Dsiplay Resolution: 320 x 240 pixels

Illumination: White for day mode. Red, green, blue or white for night mode
Environmental Protection, Waterproof: IPx7

Environmental Protection, Humidity: up to 95% RH
Compass Safe Distance: 300mm (1.0")

Temperature Operating: -15 to +55°C (5°F to +131°F)
Temperature Storage: -30 to +70°C (-22 to +158°F)
Specifications:
Instrument Function: Depth
Box Dimensions: 5"H x 6"W x 9"L WT: 1.6 lbs
UPC: 9420024155196