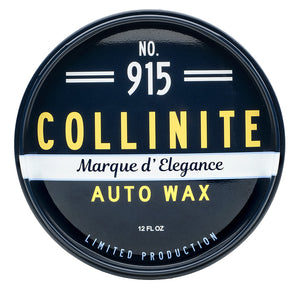 915 Marque d'Elegance Auto Wax - 12oz
Marque d' Elegance boasts Collinite's highest amount of rare carnauba; yielding our highest gloss and warmest shine to darker, meticulously maintained finishes. Combined with weather-protecting polymers, No.915 provides a showroom look with exceptional durability and a price that's hundreds less than other boutique brands.
Features:
Provides the highest level of gloss
Most notable in darker tones such as black, navy, metallic, etc.
The 2nd highest degree of durability, by having 6-9 months of weather protection
Applications: 
For hand & dual action, buffers use
Average spread/coverage: 1,400-2,200 sq. ft.
*Sold as an individual
Specifications:
Type: Waxes & Polishes
Box Dimensions: 2"H x 2"W x 5"L WT: 0.8 lbs
UPC: 638234009157