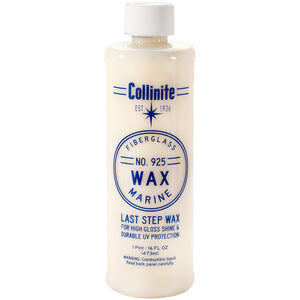 925 Fiberglass Marine Wax - 16oz
For those in search of glistening fiberglass and lasting protection without the elbow grease of paste wax. Easy on, easy off last step wax provides both long-lasting protection to fiberglass while leaving behind a high gloss shine and durable protective coating that shields all season against weathering; UV, salt spray, and more. Ideal for wax-ready large surface area jobs where radiant shine, protective longevity, and timely job completion are all paramount.
Features:
Provides long-lasting weather protection
Most machine-friendly last-step marine wax
Clear coat safe
Can be layered
Wax coating is more durable than Collinite 870 but less durable than Collinite 885
Provides easier removal, but less buffing than 885 paste wax
925's user-friendly formula is an excellent alternative for a shorter boating season, and it also suitable to be layered over the 885 Fleetwax
Applications:
For hand or machine use
For use on contaminant-free gel coat, fiberglass

For exterior marine detailing use

Average Spread/Coverage: 1,200-2,000 sq. ft.
Specifications:
Type: Fiberglass
Box Dimensions: 2"H x 2"W x 8"L WT: 0.95 lbs
UPC: 638234009256