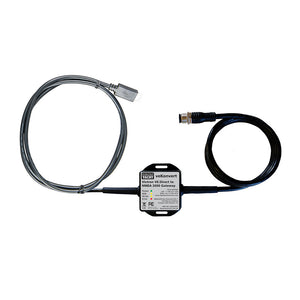 veKonvert NMEA 2000 Gateway
veKonvert brings NMEA 2000 connectivity to Victron's popular SmartShunt battery monitoring system. Now a navigation multi-function display becomes a sophisticated battery and energy management system.
Features
veKonvert is a stand-alone NMEA 2000 interface designed in conjunction with Victron Energy to integrate VE.Direct compatible devices such as their SmartShunt, BMV Battery Monitors, and MPPT Solar Charge Controller range into NMEA 2000 systems.
This functionality already existed but required the use of a sophisticated Cerbo module. veKonvert is a lower-cost, simpler solution for smaller installations that just need the electrical data displayed on a multi-function display.
Boaters and boat builders like a clear and uncluttered dash or nav area, so integrating electrical data into the main navigation display is a popular and cost-saving option.
The product is a collaboration between Victron Energy and Digital Yacht. The system utilizes Victron's proprietary VE.Direct data connectivity as a source for the NMEA 2000 data.
Victron solar panel controllers (MPPTs) and battery monitors can now also interconnect to NMEA 2000 via the veKonvert interface.
Installation
Installation is simple – just "T" into the NMEA 2000 backbone and plug into the VE.Direct custom connector on the SmartShunt, and you've got battery and electrical data on your NMEA 2000 network!
Specifications:
Universal NMEA 2000 gateway for Victron products with a VE.Direct interface
(see compatibility list in the FAQ tab)
Enables battery management or solar charge monitoring on compatible multi-function displays (Raymarine, Garmin, Navico, Furuno, etc)
Provides battery voltage, charge/discharge current, state of charge, and time to depletion based on a sophisticated algorithm
Easy installation, plug 'n' play connectivity, and self-powering from the NMEA 2000 bus
Generates NMEA 2000 alerts from any BMV or SmartShunt Alarms
Supports multiple SmartShunts for a larger multi-battery system
Vekonvert Is Compatible with the Following Victron Products:
BMV -700, BMV -702, BMV -700H, BMV-712 Smart, BMV-710H Smart, BMV-712 Smart Rev2, SmartShunt 500A/50mV, SmartShunt 1000A/50mV, SmartShunt 2000A/50mV, and All MPPT Charge Controllers
NOTE: veKonvert is not compatible with Victron Chargers and Inverters. It should also not be plugged into the VE.Direct interfaces of any Victron "Consumers" such as Multiplus, Quattro, Cerbo, etc.