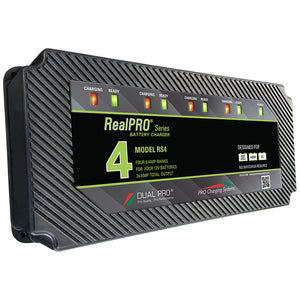 RealPRO Series Battery Charger - 24A - 4-Bank

RealPro Series battery chargers (formerly Recreation Series) are an affordable, reliable, and safe battery charging system designed for everyday use. The system is engineered for users who need a charging system on an occasional basis and may not want or need the capabilities of a heavier-duty and higher-amperage product.
It is designed for use in many types of applications, including bass boats, runabouts, pontoon boats, other watercraft, automobiles, ATVs, golf carts, and other similar uses. The system delivers sophisticated capabilities and superior value to customers.
Battery Charging Systems Designed for Everyday Applications:
Affordable, reliable, and safe
Unmatched performance, reliability, safety, and quality
TROUBLE FREE – Just Plug It In and Forget It!
Join Over 750,000 satisfied customers!
Wide variety of applications
Universal input (100-240 VAC 50/60HZ)
Features:
4 bank battery charger 
Approved for wet cell and absorbed glass mat (AGM) batteries
Designed for use in fresh and saltwater
Dependable, rugged construction, and waterproof
Independent outputs and fully automatic
Battery maintenance mode
Two-year warranty
DC charge cables = 5ft and AC power cord = 3ft
Approved and meets ISO 8846 marine standards
LED lights indicate "Each Battery's" state of charge
Reverse polarity protection and no installation restrictions
Ignition protected (US Coast Guard 33 CFR 183.410)
FCC 15 Parts A and B Interference Compliant
May Be Used in Many Types of Sporting applications, Including:
Bass Boats
Runabouts
Pontoons
Automobiles
ATVs
Golf Carts
Specifications:
Charging Banks: 4
Portable: No