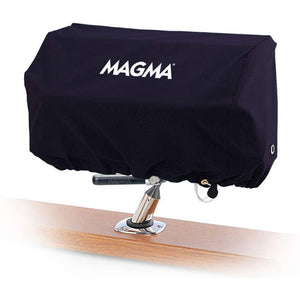 Rectangular Grill Cover - 9" x 18" - Captain's Navy
These grill covers are designed specifically to fit any Magma rectangular grill with a 9" X 18" grilling surface and are available in boating's most popular colors.  
Constructed from breathable solution-dyed acrylic fabric that is water and fade-resistant.  The material is guaranteed with a 5-year warranty that covers the fabric from becoming unserviceable because of loss of color or strength from normal exposure conditions, including sunlight, mildew, rot, and atmospheric chemicals.  The convenient drawstring and cam-lock assembly keep it secured while underway or in windy conditions.
Compatible With:
Magma rectangular grill with a 9" X 18" grilling surface
*Sold as an Individual