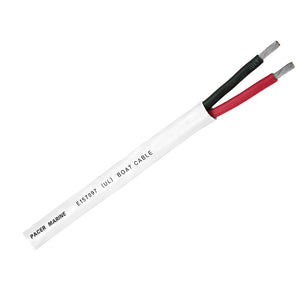 Duplex 2 Conductor Cable - 100' - 14/2 AWG - Red, Black
Duplex Boat Cable is a type of multiconductor cable that is used in low-voltage AC applications and DC circuits. Pacer manufactures 14 AWG Duplex boat cables in-house in Sarasota FL, USA for the highest quality. It starts with finely stranded, Type III tinned copper conductors. These allow for maximum flexibility and prevention of corrosion. The PVC jacket helps 14 AWG Duplex Boat Cable with flexibility while serving to prevent moisture from building up. How does it achieve this? Well, the voids between wires are filled during the extrusion process. This leaves no room for moisture or air to build up. As an added bonus, a talcum powder coating is applied to the interior wires. This coating allows the outer jacket to be removed easily. Just another reason 14 AWG Duplex boat cable is perfect for marine usage.
Features:
14 AWG duplex boat cable
100 ft. of cable
No. of Conductors: 2
Stranded, tinned copper conductors
Annealed Finely Stranded Tinned Copper ASTM B172 Class K
Built for durability, ­flexibility, and longevity in the harshest marine environments
So ­flexible that you can tie it into a knot without compromising any of its qualities
Proprietary insulation ensures the highest level of protection available
Ease of installation and the longevity of its design have helped solidify this boat cable as the choice of boating professionals
Specifications:
Conductor Colors: Black & Red
Conductor Stranding: 41/0.0100 
Jacket Color: White
Jacket Thickness (inch): 2 conductors @ 0.035"
Nom. Cable O.D.(inch): 2 conductors @ 0.225" x 0.370"
Characteristics:
Conductor: Annealed Fine Stranded Tinned Copper 
Insulation: -20 °C to 105 °C Flexible, Color Coded PVC
Temperature Rating: 105 °C Dry, 75 °C Wet, 60 °C Oil
Voltage Rating: 600 V
Resistant to: acid, alkali, abrasion, flame, gasoline, oil, and moisture
Applications:
Two conductor boat cable is a durable product for use in DC circuits as well as low voltage AC applications
Compliances:
UL Standard 1426
RoHS Compliant
ABYC: E-11.14
Coast Guard: 33 CFR part 183
UL compliant
Specifications:
Color: Black/Red
Gauge: 14/2 AWG
Length (Feet): 100'
Box Dimensions: 6"H x 10"W x 10"L WT: 10.2 lbs
Quick Guide (pdf)
Brochure (pdf)