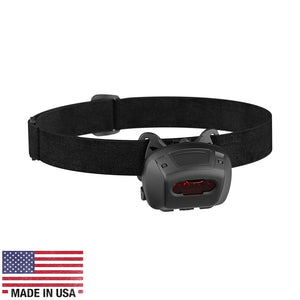 Quad Tactical MPLS 78 Lumens - 73-Hour Runtime
The Quad Tactical is lit by four Ultrabright LEDs offering a wide, bright flood light.
Features like a rugged and durable body, waterproof rating of up to 1 meter, circuitry that regulates light output in each mode, and an easy-to-locate power button round the Quad Tactical out nicely, making it a great pick for any number of gear packs you may have: camping, hunting, fishing, around the house, etc.
The Quad Tactical also includes an interchangeable lens filter system that allows you to swap between light colors (red, blue, and green) depending on your needs at the moment. If you work with one color light in particular, leave that filter installed and flick it up or down to toggle between that specialty light color and your white beam.
Also available is the standard Quad headlamp without color filter lens and the CL1DIV1 Intrinsically Safe Quad II.
Features:
Red filter installed and up, other filters included are green and blue
Specifications:
NSN: 6515-01-518-3823
POWER: 78 Lumens
LAMP: 4 Ultrabright LEDs (regulated)
BURN TIME: 60.5 hours BATTERIES: 3 AAA Alkaline or Lithium
WEIGHT: 3.6oz / 101g
WATER RESISTANT: IPX7
WARRANTY: Lifetime
Specifications:
Lumens: 78 Lumens
Box Dimensions: 2"H x 5"W x 11"L WT: 0.4 lbs
UPC: 795626016633
Owner's Manual (pdf)