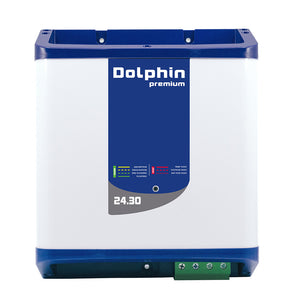 Premium Series Dolphin Battery Charger - 24V, 30A
The Premium range of chargers is perfect for most of today's battery technologies, with a load capacity of up to 400 amps at 12V. These compact chargers are ideally suited to recharging batteries in light vehicles, ambulances, repair vehicles, and motorhomes. The Premium charger is perfect for workshops, pleasure boats, computer cabinets, and starter batteries for gen-sets.
The robust compact housing is lighter and easier to install than ever thanks to better mounting design and electrical speed connections. Outstanding features include the latest battery charging technology and a new charging program for lithium-ion-iron-phosphate batteries. These chargers come in a nice package, making them ideal for retailers.
Features:
24V, 30A
Digital management with up-to-date RISC micro-controller
4 charging programs, including one for Lithium-Ion-Iron-Phosphate with integrated BMS.
Charging program selection by internal dip switch.
Thanks to the Winsta (Wago) and Phoenix contact connectors, wiring, and connections are easy and user-friendly.
3 completely isolated battery outputs.
Automatic 115/230V switch-over
Touchview controller connection
Owner's Manual (pdf)