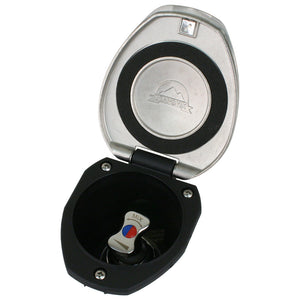 Recessed T-Handle Mixing Valve - Stainless Steel with Black Cup
This recessed mixer and shutoff valve features a 316 stainless steel cap. Can be used as a mixer for recessed showers in both vertical and horizontal installations.
Features:
Black composite cup with mixer
This cap design for recessed showers and valves will add a touch of elegance to a boat
The friction-lock hinge holds the cap open
Mounting hardware is included
Water Connection:
Mixers: Flexible supply lines with 1/2 in. NPS-F fittings
3/8 in. BSP-M output connection to shower hose
Shut-off Valves: 3/8 in. BSP threaded shaft with M 1/2 in. NPS adapter included
Specifications:
Material: 316 stainless steel Cap and composite cup
Mounting Hole: 2-3/4 in.
Shipping Weight: 5 lbs.