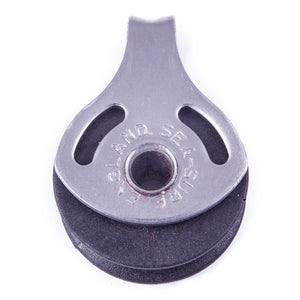 General Purpose Block
The 19mm carbon fiber sheave block range is designed for use with abrasive ropes for high-load applications. The outer cage is manufactured from marine-grade 316 Stainless Steel with a hollow stainless steel rivet through the center of a carbon fiber sheave. 
Features:
The block features a plain bearing, which is suited to higher load use
A typical use for this block is for control lines, halyards, outhauls, furling lines, etc.
Specifications:
Weight: 10 g
Breaking Load: 400kg