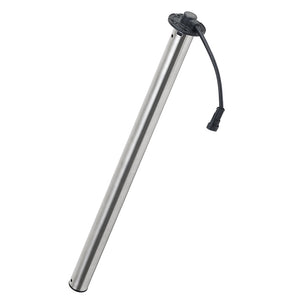 Deep-Pipe Level Sender - 350mm - Stainless Steel - 90-4 OHM
Deep-Pipe Level Sensor is ideal for usage in fuel tanks. Its 38 mm diameter vertical tube contains a float inside, which measures a level of the liquid. Small holes at the top and bottom of the tube act as a baffle to fuel sloshing around in the fuel tank, so the float position remains stable at any sea state. Sensors are made in various lengths starting at 150 mm increasing to 1200 mm – please ensure that the length chosen is at least 4 mm from the base of the fuel tank once fitted. 
Features:
TE Superseal Connector IP67
Compensation chamber
Flange: PA66 GF30
Wiring harness with length of 200 mm
3 Signal ranges: 90–4 OHM, 0– 180 OHM, 240–33 OHM
Lengh: 150 mm–1200 mm
Mounting diameter: 54 mm
IP67 protection rating
This product may not be returned to the original point of purchase. Please contact the manufacturer directly with any issues or concerns.