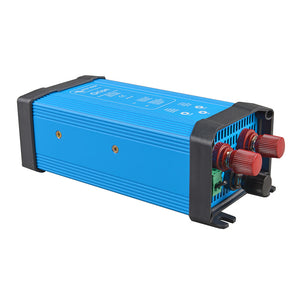 Orion 24/12-70A DC-DC Converter with Binding Posts - IP20
Remote On-Off Connector
The remote on-off eliminates the need for a high-current switch in the input wiring. The remote on-off can be.
operated with a low-power switch or by the engine run/stop switch (see manual).
All Models with Adjustable Output Can Also Be Used as a Battery Charger
For example, charge a 12 Volt starter or accessory battery in an otherwise 24V system.
All Models with Adjustable Output Can Be Paralleled to Increase Output Current
Up to five units can be connected in parallel.
Easy to Install
Delivery includes four Insulated Fastons Female Crimp 6.3mm.
Specifications:
Input Voltage Range (V): 18-35
Under Voltage Shutdown (V): 14
Under Voltage Restart (V): 18
Output Voltage Adjustable with Potentiometer: Yes
Output Voltage (V): Adjustable, 10–15V, F set 13,2V
Efficiency (%): 92
Suitable to Buffer-Charge a Battery: Yes
Can Be Connected in Parallel: Yes
Continuous Output Current (A): 70
Max. Output Current (A): 85
Fan-Assisted Cooling (Temp. Controlled): Yes
Galvanic Isolation: No
Off Load Current: < 20mA
Remote On-off: Yes 
Operating Temperature Range (Derate 3% Per °C above 40°C): -20 to +55°C
DC Connection: M6 bolts
Weight: 0,9 kg / 2.0 lbs
Dimensions (H x W x D): (mm) 65 x 88 x 195 / (inch) 2.6" x 3.5" x 7.7"
 Safety Standards: EN 60950
 Emission Standards: EN 61000-6-3, EN 55014-1
 Immunity Standards: EN 61000-6-2, EN 61000-6-1, EN 55014-2
 Automotive Directive Standards: ECE R10-4
Please contact your dealer for any returns, repairs or support issues related to this product.
Quick Guide (pdf)