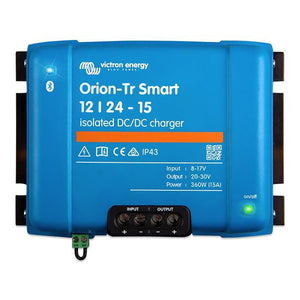 Orion-TR Smart DC-DC 12/24-15 15A (360W) Isolated Charger or Power Supply

The Orion-TR Smart DC-DC charger is a professional DC to DC adaptive 3-stage charger with built-in Bluetooth.
For use in dual battery systems in vehicles or on boats where the (smart) alternator and the start battery are used to charge the service battery. The unit can be monitored and programmed via Bluetooth and can be remotely controlled via a remote on/off switch and has an engine running detection mechanism.
The Orion Tr-Smart charger can be used in 12V or 24V systems and is suitable for both lead acid and lithium batteries. Models are available up to 400W and unlimited multiple units can be connected in parallel to increase output power.
Features:
Input voltage range: 10-17V
Output Voltage adjust range: 20-30V
Continuous output current at nominal output voltage: 15 Amps
Max output current at nominal output voltage: 25 Amps
Efficiency: 88%
Dimensions (h x w x d): 5.1" x 7.3" x 3.2"

WARNING: This product can expose you to chemicals which are known to the State of California to cause cancer, birth defects or other reproductive harm. For more information go to P65Warnings.ca.gov.
Please contact your dealer for any returns, repairs or support issues related to this product.
Specifications:
Portable: No
Charging Banks: 1
Charger Output Voltage: 20-30v
Charger Output - Amps: 15a
Charger Input - Voltage: 10-17v
Box Dimensions: 4"H x 5"W x 8"L WT: 4.4 lbs
UPC: 8719076047704
Quick Guide (pdf)