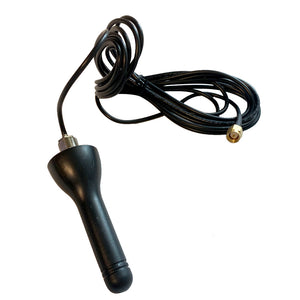 Outdoor Antenna for GX LTE 4G-A
This antenna is optimized for 4G frequency bands and, as such, will have slightly better reception on the 4G network. It can be used with the GX LTE 4G for 2G, 3G, and 4G bands.
If the 2G/3G variant does not provide sufficient signal quality in an installation, the solution is to contact a local GSM antenna provider. All the necessary information, including a link to the cellular modem (Simcom) used, can be found in this manual.
Specifications:
Mounting Option: Screw mount
Cable Type: RG-316
Cable Length: 3.0 m
Connector: SMA male straight
Frequencies: 800/900/1800/1900/2100 MHz
Signal Gain: 3 dBi
Please contact your dealer for any returns, repairs or support issues related to this product.
Quick Guide (pdf)
Owner's Manual (pdf)