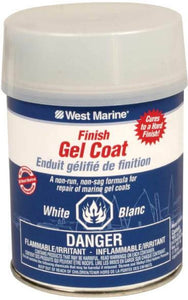 Final-coat gelcoat for consistent, dependable results.
For use as a final coat over fiberglass layups or for repairs, this gelcoat cures to a hard, glossy surface. Ideal for touching up scratched gelcoat. UV inhibitor is added to increase weathering stability. When mixing small batches, catalyze with 12-18 drops hardener per ounce of gelcoat. The higher the temperature, the less hardener you need. In no case should you exceed 18 drops hardener per ounce of gelcoat.
Key Features 
Ideal for gelcoat repairs or touch up
UV inhibitor increases weathering stability
Cures to a hard glossy finish
**Please Note** This product will be shipped ground because it contains hazardous materials.