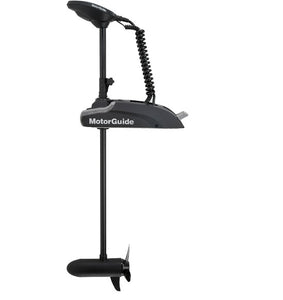 Xi3-55FW - Bow Mount Trolling Motor - Wireless Control - GPS - 55lb-48"-12V
Locked, Loaded, and Ready to Stay on Fish. 
There are plenty of reasons to fish with the new Xi3. For starters, it has wireless control out of the box–so there's no need for an expensive add-on. Right from the start you'll be fishing from anywhere on the boat with the convenient hand-held remote. You'll also get best-in-class quiet operation that's up to 40% quieter than the leading competitor. With our SecureStep system, stowing and deploying the Xi3 is safe and easy. Releasing the motor from its locked position, and raising it to stow and go, takes just a single step on the release lever from a comfortable standing position.
Convenient Release Lever
Large release lever triggers both stow and deploy functions from a standing position for easy and safe operation. Visual and audible cues indicate when the motor is locked in the stowed position.
Compact Hand-held Remote
Compact hand-held remote controls the Xi3 from anywhere on the boat. A wireless foot pedal is available as an accessory.
Easy to read LED dashboard
LED status indicators help you monitor four key motor functions at a glance, including three levels of battery life.
Run the Digital Difference. 
Smooth and precise variable speed control from 0% - 100% throttle and extended battery life (up to five times longer) are two reasons why more anglers are choosing motors with our Digital Power Management technology. Digital's highly efficient, state of the art components run at lower temperatures, which means more thrust to the motor. Plus, smart safeguards protect the motor when operating under severe conditions