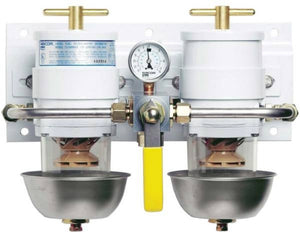 This Item Comes with Fast Free 1-3 Day tracked Shipping!
Have a fuel filter on "stand-by" to restore fuel flow
It's hard to predict when a fuel filter will be fouled by water or debris; it can happen at the worst time and render your boat inoperable until the fuel supply is restored.The Racor MAX Turbine Series fuel filter/water separators are designed to get the fuel system back up and running as quickly as possible just by switching a valve. The MAX Turbine assemblies feature two filters with a valve to direct fuel flow. Users can divert fuel from the clogged filter to the fresh one in seconds. Once the fuel is flowing through the clean filter, the clogged filter can be removed and replaced while the engine is running.
Each assembly is a system of two Racor 500 Series, 900 Series or 1000 Series Turbine filters. These filters have become the industry standard for water and debris removal. The mounting bracket and filter bodies are constructed of powder coated aluminum alloy to resist corrosion and feature top-loading access to elements for easy service and replacement. A front mounted valve provides easy access to re-direct fuel in the event of a clog. A pre-installed vacuum gauge helps to monitor filter life and indicate when the elements needs to be replaced.
The Turbine design removes the bulk of the water in the fuel using centrifugal force. Remaining water beads up on conical baffle and drops to the bowl or is filtered by the Aquabloc media in the elements. Deep pleats in the media trap particulate debris and provide an extended service life. Water and debris can be safely removed through a drain in each bowl.
It is always good to have a spare fuel filter element aboard to save the day. It's even better to have a filter on stand-by that is ready in seconds to save the moment.
Key Features
Restores fuel flow after a clogged filter as quickly as possible
Allows fuel filter changes while engine is running
Provides industry standard debris and water separation protection
Compatible with Racor 2 micron, 10 micron, and 30 micron filter elements
Model 75500MAX2 meets ASTM FS1201 certification, UL listed, ISO 10088, and USCG accepted
| Specifications | 75500MAX2 |
| --- | --- |
| Application | Gasoline/Diesel |
| Flow Rate | 120 gph |
| Maximum Pressure | 15psi |
| Port Size | 3/4"-16 UNF-B SAE 1926 O-ring |
| Drain | Yes |
 WARNING
: This product can expose you to chemicals including Diisononyl phthalate or Carbon black-extracts, which are known to the State of California to cause cancer. For more information go to
www.P65Warnings.ca.gov
.