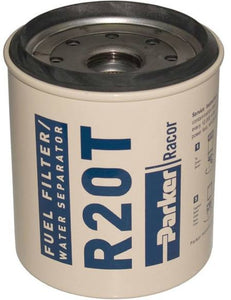 Quick, easy, and most importantly, effective fuel filtration
Regardless of how carefully fuel is handled, dirt and water manage to find thier way to your tank. It is the fuel filter's job to stop contaminates before ithey damage injectors and other sensitive engine parts. Racor filtration systems have been a leading force in removing harmful debris and water from diesel for almost 50 years. The Spin-On replacement elements are easy to use and extremely effective in removing dirt and water from fuels. The element body is powder coated to resist corrosion and is easy to grip for removal and installation. Deep pleats in the filter media trap debris and provide an extended service life. Each Spin-On element features Aquabloc® which removes nearly 100% of the water by repelling moisture and directing it downward into the bowl with larger particles for quick removal through the drain in the bowl. Color coded 2 (Brown), 10 (Blue) and 30 (Red) Micron elements are available to taper filtration in multi filter systems. 10 and 30 Micron elements are ideal in the primary stages and 2 micron elements provide the finest filtration and are best close to the engine. Gaskets and O-rings are included with replacement elements to provide the best possible seal between the mount head and re-usable bowl. We recommend having spares aboard to be prepared for unexpected clogs caused by tainted fuel from the dock or debris and algae from the tank that has been stirred up by rough seas.
Key Features
Spin-On design makes changing filter elements quick and easy
Aquabloc® removes almost 100% of water and moisture contaminates
Deep pleats in the element trap particulates and extend filter service life
Corrosion resistant powder coated body is easy to grip
Replacement gasket and O-ring are included with element to prevent leakage at mounting head and re-usable bowl
Sized to match mounting head and re-usable bowl. Refer to owner's manual or existing filter to confirm proper selection.