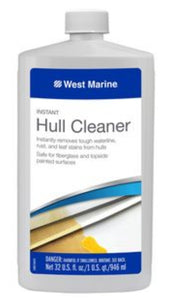 Name
Value
Best Use
Hull Cleaner
Waterline
Capacity
32 Ounces
Features
Biodegradable
This Item Comes with FAST FREE 1-3 Day Tracked Shipping on Orders $50 or More!!!
Polish hulls and remove unsightly waterline stains.
Professional grade formula removes waterline stains and other grime from hulls. Great for fall or spring cleaning and the ideal way to prepare the hull for annual polishing or waxing.
Key features
Removes stains from water line
Use on fiberglass, metal and painted surfaces
Remove stains from grassy marine growth, rust, scum line, fish blood
Does not contain harmful acids
Mfg. #
 15003726