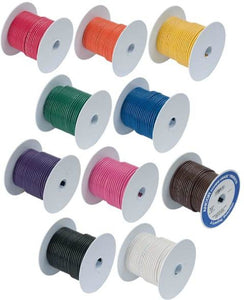 Name
Value
Color

Black, Blue, Brown,

Green, Gray, Orange,

Pink, Purple, Red, White,

Yellow

Gauge
18 Gauge
ISO Approved
UL1426
ABYC
USCG CFR Title 46
Sold By
100' Spool
Type
Primary
Ancor Marine Grade wire and cable is manufactured from tinned copper stranding for maximum protection against corrosion and electrolysis. Ultra-flexible (Type 3) stranding resists fatigue due to vibration and flexing.
Type 3 wire is more rugged:

 
Vibration is always present on a boat, and will quickly fatigue and crack coarsely stranded wire. Ancor wire is Type 3 stranded, meaning that is has 5-10 times more copper strands than Type 2 wire, making it more flexible and fatigue resistant.
Premium vinyl insulation:

 
Ancor wire is constructed with premium vinyl insulation, rated at 600 volts, 221°F (105°C) dry and 167°F (75°C) wet. It is also Marine UL-listed, and meets the highest ABYC standards for AC and DC use.
AWG wire is larger than SAE:

 
Finally, it is based on AWG (American Wire Gauge) wire sizes, which are 6-12% larger than SAE gauge wire. So you get more current-carrying ability than from similar SAE wire.
Exceeds all UL 1426, US Coast Guard charter boat (CFR Title 46) and ABYC standards
Stays flexible even in extreme cold (-40°C) and resists salt water, battery acid, oil, gasoline and ultraviolet radiation
For wiring guidelines, standard color-coding and technical data, see our West Advisor articles on Marine Wire Size and Ampacity, and Marine DC Wiring Basics