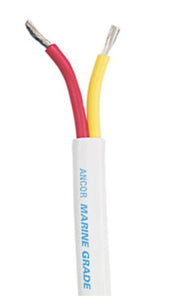 Name
Value
Color
Red/Yellow
White Cover
Gauge

6-2, 8-2, 10-2,

12-2, 14-2,

16-2, 18-2Gauge

ISO Approved
UL
ABYC
CSA
Sold By
Foot
Type
Duplex Safety
Reduce the chances of electrocution from your on board DC system.
We strongly recommend using Ancor Marine Grade Safety Duplex Cable in your boat's DC system. The familiar red and black conductors are now red and yellow (correctly color-coded to ABYC standards), to reduce the chance of incorrectly connecting the AC hot (black) with the DC ground (black). The white common jacket is made for easy removal, while providing excellent abrasion resistance.
These cables exceed UL 1426 standards and are made from the highest quality, ultra flexible (Type 3/Class K) tinned copper stranding for maximum protection against corrosion and electrolysis while resisting fatigue due to vibration and flexing.
The premium vinyl insulation is rated at 600 volts, 221°F (105°C) dry and 167°F (75°C) wet, stays flexible even in extreme cold (-40°F/C) and resists saltwater, battery acid, oil, gasoline, heat, abrasion and ultra-violet radiation for peace-of-mind in harsh marine environments.
Specifications
Wire Type:

 

Safety
Construction:

 

Tinned Copper
Conductors:

 

One Red, One Yellow
Color of Exterior Insulation:

 

White
Voltage Rating:

 

600V
Dry Rating:

 

221°F (105°C)
Wet Rating:

 

167°F (75°C)
Cold Rating:

 

-40°F/C
Approvals:

 

UL 1426, ABYC, CSA