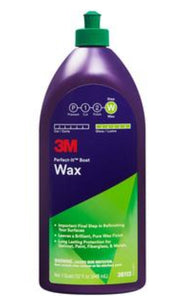 This Item Comes With FAST FREE 1-3 Day Tracked Shipping on Orders $50 or More!!!
The perfect follow-up for any process where wax finish is recommended.
Boat Wax provides a brilliant gloss and durable protection from the elements. It is formulated with carnauba wax and is safe for gelcoat, paint, fiberglass and metal. It also has a pleasant tropical scent.
Key Features
Final step for any process where wax finish is recommended
Contains pure carnauba wax for a brilliant, pure wax finish
Protects gelcoat, paint, fiberglass and metals from the elements
Liquid wax formula is easy to apply and clean up
Mfg. #
 36113