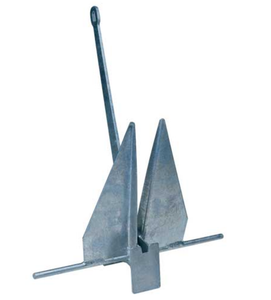 This Item comes with FAST FREE 1-3 Day Tracked Shipping.
High-quality, affordable anchors feature precise dimensions and hot-dip galvanizing for corrosion protection.
Patterned after the original lightweight Danforth anchors, including precision die-cut components for accurate assembly and symmetry, a tapered shank with chamfered edges for deeper seabed penetration and increased stock length and fluke angle for roll stability and dependability.
Style:

 

Pivoting steel fluke
Material:

 

Galvanized steel
Application:

 

Sand and mud
Pros:

 

An accurately made, traditional lightweight anchor. Precise crown tooling and tapered shank allow deep anchor penetration. Controlled shank/fluke angle for reliable sets. Great in sand and good in mud.
Cons:

 

Limited or no holding in grassy, rock or clay bottoms. Doesn't readily reset on breakout. Hinge prone to jamming.
Warranty:

 

Five years
Name
Value
Benefits
Patterned After the Original Danforth Anchor
Increased Stock Length and Fluke Angle for Roll Stability and Dependability
Best Use
Sand
Mud
Boat Length
Less than 16 Feet
Design
Pivoting Fluke
Dimensions
Shank Length 19 1/2 Inches
Stock Width 14 3/4 Inches
Fluke Length 10 1/2 Inches
Material
Galvanized Steel
Not Recommended For
Limited or No Holding in Grassy, Rocky or Clay Bottoms
Type
Fluke
Warranty Details
Five Years
Weight
4 Pounds