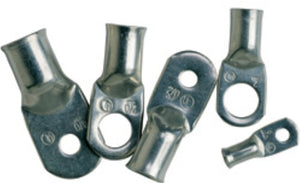 Marine Grade™ tinned copper lugs for maximum current flow
Yes, you could crimp on less expensive terminals designed for automotive use on your boat, but isn't it worth a little extra peace of mind when you're far from shore to know that your electrical connections are built to withstand the extra abuse they'll get on the water? These Ancor Heavy-Duty Lugs are Marine Grade so you can rely on them to securely connect your vessel's electrical system.
Ancor's Marine Grade Lugs are made from heavy-duty annealed tinned copper which offers the least electrical resistance for maximum current flow. This high-grade, tin-plated copper also resists corrosion from salt and moisture.
The seamless flared barrel design allows for easy wire insertion and maximum strength when crimped by hand or with an auto crimp tool. Closed end seals out moisture so your cables stay dry and corrosion free.
Tinned copper conductor
Hand or auto crimp
UL 486A
Mfg. # 252243