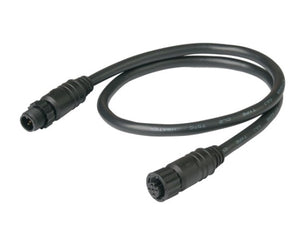 FAST FREE 1-3 Day Tracked Shipping on Orders $50 or More!!!
NMEA 2000 Drop Cable - 2M
Ancor's NMEA 2000 Approved Drop Cables offer connection between an NMEA 2000 device and tee connector. The black couplers connect to the corresponding Ancor tees creating a simplified, color coded network installation. The drop cables are smaller in diameter and more flexible than backbone cables for easy connection to NMEA 2000 devices. The drop cables are available in four lengths from 0.5 meter (1.6 feet) to 5 meters (16.4 feet) to cover a wide variety of applications.
Features:
Color coded for easy installation and component identification
Super flexible 22 AWG power conductors for ease of installation and wire routing
NMEA 2000 Approved, 100 percent universal and compatible with other manufacturers' products
Mfg. # 270302