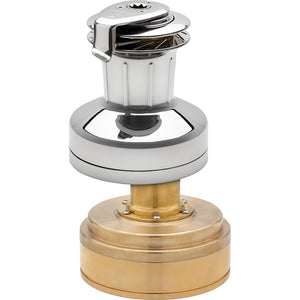 50ST Compact Below Deck Electric Full Stainless Winch Variable Speed - 12V
Andersen Compact Motor™ electric winches allow you to hoist and trim sails at the push of a button regardless of physical strength, so any crew member can easily and safely trim sails and control lines.
Ease of installation
The Andersen Compact Motor™ electric winch is available in two formats for either Above Deck or Below Deck motor placement. Motor gearbox and controller are integrated into one compact unit with no extra control box necessary. Simplified electrical installation requires just the connection of positive and negative power cables to the motor terminals and the connection of the push button using the included output cable.
Efficient, variable speed
The Andersen Compact Motor™ is a brushless DC motor carefully matched to a low profile planetary gearbox which requires less space for installation, and draws considerably less current than traditional motor/gearbox configurations. Available in 12 volt and 24 volt models, Compact Motor™ electric winches operate at variable speed in proportion to the pressure applied to the push button, for smooth and quiet operation.
Illuminated "intelligent" push button
Compact Motor™ winches are supplied with a push button with integrated LED which illuminates when power to the winch system is on. The push button incorporates a hinged safety cover to prevent inadvertent winch operation and is water resistant rated to IP67. The push button also acts with the controller to flash status codes that assist with trouble shooting in the event of overload or where other system protection intervention occurs. A cable for connection of the push button is included for convenient installation.
Built-in protection
- Integrated overload protection - The controller is pre-set to stop the winch if the maximum pull load is exceeded. Operation can resume within a few seconds when the load returns below the limit.
- Thermal overload protection - The motor is fitted with a thermal cutout that disables the motor in case of overheating; it automatically resets after the temperature returns to normal.
As with all ANDERSEN Winches™, our Compact Motor™ Electric Winch features the exclusive stainless steel Power Rib™ drum for maximum power and extended line life. This model also uses our exclusive self-tailing device that automatically accommodates a wide range of different line sizes. 
Specifications
Drum: 3-1/2 in. (89 mm)
Base: 7-1/16 in. (180 mm)
Height: 7-15/16 in. (202 mm)
Line Entry: 3-9/16 in. (90 mm)
Line Size: 5/16-9/16 in. (8-14 mm)
Weight: 46.3 lbs. (21 kg)
Max Deck Thickness: 2-7/16 in. (62 mm)
Motor Depth: 7-3/8 in. (188 mm)
Motor: 7-11/16 in. (195 mm)
Quick Guide (pdf)