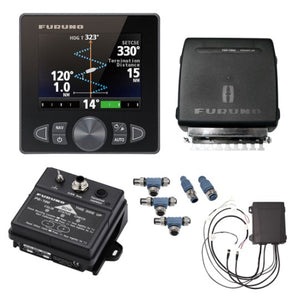 Please Contact Sales rep. for availibility
NavPilot 711C/OB-IPS for Volvo Penta IPS
The NavPilot 711C/OB-IPS is a complete NavPilot 711C/OB system with all of the necessary components, cables and gateways to connect to a Volvo Penta IPS system (not included).
Includes:
NavPilot 711C Control Unit
FAP7002 Processor Unit
PG700 Heading Sensor, NMEA 2000
000-022-971-00 VOLVO IF KIT NAVPILOT 700/711
AIR-052-531 x 2 NMEA2000 T-Connector, Female/Female/Male
DOC-711-IPSNavPilot 711C/OB-IPS Document
Kick back, relax and let NavPilot steer you to your destination!
Furuno's NavPilot is a revolutionary autopilot with a sunlight viewable display designed for a variety of vessels. It utilizes a self-learning and adaptive software algorithm, and plays the ultimate role in course-keeping capability. NavPilot dynamically adjusts essential parameters during navigation, such as vessel speed, trim, draught, tide and wind effects, dead band, weather and more. These parameters are stored in system memory and continuously optimized to make the NavPilot more versatile.
The NavPilot 711C features a color day/night graphic display, offering much better sunlight viewability during the day while not affecting your night vision when the sun goes down.
Self-learning and adaptive software
From the first dock-side setup through the last voyage you made, NavPilot continues to learn your vessel's steering characteristics, allowing for real-time, dynamic adjustments to make the boat's steering more accurate.
FishHunter mode
FishHunter mode is a unique feature of Furuno's NavPilot series. Find a fish target with your Furuno sonar/sounder or bird target with your Furuno radar and feed it to the NavPilot The NavPilot will activate the FishHunter mode to perform square, zigzag, circle, orbit, spiral or figure-eight maneuvers around the specified target at a user selected distance. This feature can also be used for Man Overboard (MOB).
Furuno's new NavPilot series is designed to match the NavNet 3D, FI-50 Instrument series and other navigation equipment. The Plug and Play CAN bus interface allows for easy installation and exceptional interface ability.
Mfg. # NAVPILOT 711C/OB-IPS