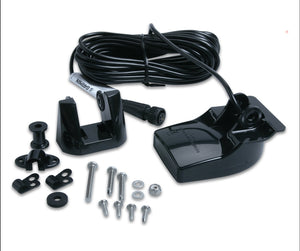 Name
Value
Beam
10x40 Degrees
Connection Interface
6-Pin Connector
Deadrise Angle
0 Degree
Frequency
200/50kHz
Material
Plastic
Maximum Depth
2500 Feet
Sonar
Depth
Temperature
Transmit Power
500 Watts
Type
Transom Mount
This Item Comes with FAST FREE 1-3 Day Tracked Shipping!!!
Plastic transom-mount transducer with depth and temperature has an operating frequency of 200 and 50 kHz. The beamwidth is 10 degrees at 200 kHz and 40 degrees at 50 kHz.
A good choice for offshore fishing, this dual-frequency transducer offers better detail on the high-frequency setting and deeper readings on the low-frequency setting. Includes mounting hardware and installation instructions.
Mfg. # 010-10272-00
GARMIN 200/50KHZ, 10/40 DEG, PLASTIC TM, DEPTH & TEMP - 6-PIN