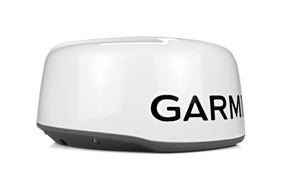 Name
Value
Amperage
3 Watts (Standby)
18.1-24.4 Watts (Transmit)
Beam
5.2 Degrees H
Dimensions
9.8" Height x 20" Diameter
Display Color
Sold Separately
Maximum Range
36 Nautical Miles
Rotation
24 RPM
Transmit Power
4 Kilowatts
Type
Radomes
Voltage
10 to 32 Volts DC
Warranty Details
Two Years
Weight
17 Pounds
Waterproof
Waterproof
Compact, streamlined dome radar delivers 4kW transmit power and clear echo definition at all ranges and is a good choice for boats with limited space. 
Dynamic Auto Gain automatically adjusts to your surroundings for optimal performance in all conditions. Dynamic Sea Filter automatically adjusts gain to changing sea conditions. Overlays radar image on the chartplotter map page (autopilot or heading sensor recommended for best results). Features 8-bit true color resolution for a clear presentation. There are no complex user settings, and it's easy to install and start using.
Key Features
Compact:

 

Streamlined 18" 4kW dome radar can easily be mounted on a radar arch or up a mast
8-bit true color resolution for a clear presentation on your chartplotter screen
Powerful:

 

Delivers 4kW transmit power and clear echo definition at all ranges to enhance situational awareness
Automatic:

 

Dynamic Auto Gain automatically adjusts to your surroundings for optimal performance in all conditions
Adaptive:

 

Dynamic Sea Filter automatically adjusts gain to changing sea conditions
Intuitive:

 

Overlays radar image on the chartplotter map page (autopilot or heading sensor recommended for best results)
Vigilant:

 

Provides MARPA target tracking when combined with a multi-function display and heading sensor (sold separately)
Specifications
Transmit Power:

 

4kW 
Maximum Range:

 

36nm 
Minimum Range:

 

65.6' (20m) 
Horizontal Beamwidth:

 

5.2° 
Rotation Speed:

 

24rpm 
Power Consumption:

 

3W standby; 18.1-24.4W transmit 
Voltage:

 

11-35V DC 
Dimensions:

 

20"dia. x 9 7/8"H 
Weight:

 

17lb. 
Waterproof Rating: IPX7 
Warranty:

 

Two years
What's in the Box
GMR 18 HD+ radome
Mounting hardware kit
Power cable (15 m/49.21')
Network cable (15 m/49.21')
Installation instructions
Mounting template
Mfg. # 010-01719-00