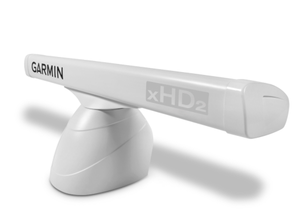 This Item Comes with FAST FREE 1-3 Day Tracked Shipping!!!
GMR™ 2526 xHD2 6' Open Array Radar & Pedestal - 25kW
Garmin's GMR™ 2526 xHD2 high-definition radar is designed for serious fishermen and long-range cruisers. It offers all the same features as the existing xHD2 open array radars, with the addition of Pulse Expansion and an increased maximum range of 96 nautical miles. This reliable radar is an invaluable aid to track land, other boats or weather and to help locate game fish.
Pulse Expansion
Pulse Expansion adds the ability to increase the duration of the transmit pulse, which maximizes the amount of energy on a target and provides larger targets on the chartplotter's display.
Features:
Longer Ranger - Maximum range of 96 nautical miles
Auto Bird Gain - Use Auto Bird Gain to find flocks of birds at the water's surface, indicating a hot fishing spot
Dual Radar Support - Provides redundancy and ability for each display unit on the boat to select data from 1 or 2 different radar sources
Quiet Operation - Quiet rotation and reliable operation
12V or 24V Systems - Using the included voltage converter, these radars work with either 12V or 24V systems
Echo Trails - Leaves a historic "trail" on the screen to help quickly and easily identify moving targets and collison threats
Dual Range - Allows for simultaneous close and long-range views, helping mariners keep a close eye on their immediate surroundings, while also knowing what is happening farther out
Dynamic Auto Gain & Sea Filter - Continually adjusts to your surroundings to provide optimal performance in varying conditions
MARPA - Mini-automatic radar plotting aid (MARPA) helps identify and track targets that might pose a collision threat (optional heading sensor required)
8-Bit True Color Display - Helps discriminate large targets from small ones
Includes:
GMR 2526 xHD2 Radar
Mounting Hardware Kit and Template
External Voltage Converter
Power Cable (15m)
Cable Grommet
Documentation and Software Update SDT Card
Mfg. # K10-00012-16