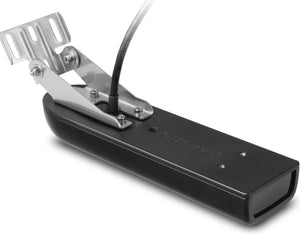 Name
Value
Beam
Traditional 40/10
DownVu 2x51 at 260kHz and 1.4x29 at 455kHz
Connection Interface
8-Pin Connector
Frequency
50/200kHz+ DownVu
Material
Plastic
Maximum Depth
Traditional 1500 Feet
DownVu 1000 Feet
Sonar
Depth
Multiple Beams
Temperature
Variable Frequencies
Transmit Power
600 Watts Traditional/500 Watts DownVu
Type
Transom Mount
For coastal and offshore anglers who want both traditional sonar and ClearVü scanning sonar.
Traditional/ClearVü optimized for depth and rough conditions
Provides picture-like images of what is below your boat
Contains fast response water temperature sensor.
This transom-mount transducer consistently displays clear and crisp fish arches with superior target separation, as well as clear definition of structure below the boat. Optimized for depth performance and rough conditions.
What's Included
Includes an 8-pin transducer with mounting hardware and installation instructions. 
Specifications
Frequencies:

 

Trad. 50/200kHz, ClearVü CHIRP 260kHz (245-275kHz), 455kHz (445-465kHz)
Transmit Power:

 

Trad. 600W, ClearVü 500W
Beamwidth, LF/HF (-3dB):

 

Trad. 40°/10°, ClearVü 2.0° x 51° at 260kHz, 1.4° x 29° at 455kHz
Max. Depth:

 

Trad. 1500', ClearVü 1000'
Depth/Speed/Temp:

 

Depth and Temperature
Number of Pins:

 

8-pin 
Cable Length:

 

30' 
Supported Transom Angles:

 

0-70° transom
Mfg. #
 010-01962-00