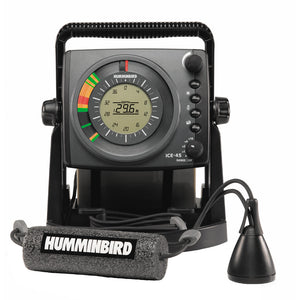 Up to $55 Humminbird PrePaid Mastercard w/Qualifying Purchases UNTIL 12/31/2023 VIEW
ICE 45 Ice Fishing Flasher
Humminbird's ICE 45 ice fishing flasher uses a 3-color fiber-optic flasher with a center dial LCD display engineered for peak performance in temperatures as cold as -20xF. The LCD includes digital depth and allows the flasher to automatically adjust the depth scale, eliminating the guesswork and estimation of depth scale overlays. Rely on Humminbird ice flashers to find your spots and keep your cooler full.
At the heart of the Humminbird ICE 45 Ice Flasher is a Dual Beam 9 Degree (240 kHz) 19 Degree (455 kHz) transducer allowing for a greater overall cone of view. This flasher runs at four depth scales in manual mode: 20 ft., 40 ft., 80 ft., and 200 ft., and seven depth scales in automatic mode: 20 ft., 40 ft., 60 ft., 80 ft. 100 ft., 120 ft. and 200 ft.
The ICE 45 includes a 4 button control pad with zoom, gain, noise, and beam selections for easy fine-tuning. An LCD battery voltage indicator lets you know the flasher's power condition. This unit includes a rechargeable 7 amp hour 12 volt battery and charger.
Features:
LCD and 3-color fiber-optic flasher display
Overlay depth scale delivers excellent viewing in sunlight
1800 watts peak-to-peak power
10-step interference rejection
4 depth scales (manual mode): 20', 40', 80', 200'
7 depth scales (auto mode): 20', 40', 60', 80', 100', 120', 200'
Shuttle mount with built-in gimbal bracket
7AH battery with charger
2-year manufacturers warranty

WARNING: This product can expose you to chemicals including 1,3-Butadiene which is known to the State of California to cause cancer, birth defects or other reproductive harm. For more information go to P65Warnings.ca.gov.
Owner's Manual (pdf)