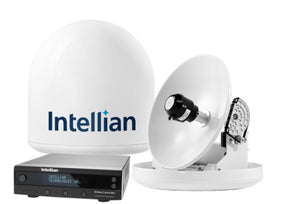 | Name | Value |
| --- | --- |
| Best Use | Satellite TV |
| Cable Length | 49 Feet |
| Compatibility | North America |
| Diameter | 13" |
| Material | UV-Resistant Plastic |
| Minimum EIRP | 51 dBW EIRP |
| Tracking | WRS/DBT Tracking |
| Warranty Details | Three Years Parts and One Year Labor |
| Weight | 19.8 Pounds |
 **Note** Items may vary upon availability, shipping may be an additional 7 days, shipping is typically 1-3 days with tracked shipping. This Item comes with FAST FREE shipping.
Equipped with Intellian's iQ² technologies, the i2 delivers stable, quiet, dependable performance in the smallest size antenna available.
The revolutionary i2 antenna makes satellite TV possible on smaller boats due to its compact size of just 13" and it's light weight of just 9.5 lb. With it's elevation range of 10 ° to 80°, the i2 offers greater range than competitive units, great news for travelers headed north or south.
The world's most versatile 2-axis marine satellite TV antennas, Intellian® Satellite TV Antennas provide reliable TV reception for boats as small as 20', with exclusive, patented technologies to make watching TV onboard easier than you imagined possible. Advanced WRS Wide Range Search programming covers a wider range and locks on to a signal in seconds, four to five times faster than other models. Dynamic Beam Tilting holds onto the signal when you are under way or your boat moves, with superior technology, utilizing a sub-reflector rotating at 3,000rpm instead of rate sensors. The dish responds faster, even in the roughest conditions.
High Performance:

 

The Intellian i2 is the world's first high-performance, compact satellite TV system with an integrated HD module. This state-of-the-art functionality provides premium high-definition HD, when available, and standard SD programming broadcasts from satellite TV providers around the world.
Automatic Satellite Switching:

 

DISH (US) and Bell TV (Canada) users will benefit from using an Intellian MIM (Multi-Satellite Interface Module) . The Intellian MIM is required to facilitate automatic switching between satellites for these services, allowing boaters to enjoy changing channels with automatic satellite switching just like a home system. See the Intellian MIM product guide for further details.
Multiple Receiver Capability:

 

Multiple receivers and TVs can be connected using a Multi-Switch or the Intellian MIM (Multi-Satellite Interface Module). Using the MIM, a master receiver can be selected to control the target satellite. In North America, when using Dish or Bell TV, a MIM is required, enabling automatic satellite switching from your remote control just like at home.
iQ² Quick&Quiet℠ Technology:

 

iQ² Technology allows you to tune in quickly, maintain a solid signal lock, and enjoy your favorite TV programming in quiet comfort. The Wide Range Search (WRS) Algorithm delivers the fastest signal acquisition available anywhere. Dynamic Beam Tilting (DBT) technology uses intelligent, real-time beam analysis to ensure superior signal tracking while eliminating intrusive background noise experienced with conventional antennas.
Interface to External NMEA 0183 GPS:

 

Standard NMEA Interface allowing a vessel owner to use a separate GPS system further reducing initial search time.
Three Year Global Warranty:

 

Industry leading three-year parts and workmanship guarantee with a two-year labor warranty for all antenna systems, ensuring peace of mind with your hardware investment
Intellian has a full range of antenna systems. Compare where you're headed with the coverage of your provider.
Key Features
Smaller size with better performance; 14 5/8" antenna radome diameter
Very light antenna weighs less than 10 pounds
Auto satellite switching function for three satellites
Compatible with leading satellite TV service providers around the world 
60° per second turn rate ensures signal tracking at high speeds and in rough seas
Travel further North or South with an extended elevation range of 10° to 80° 
Simplicity of design, no fragile compass and no rate sensors
Built-in HD module for Ku-band 
Three year global warranty
Specifications
Boat Size:

 

 20' and over   
Dish Diameter:

 

13" 
Antenna Weight:

 

 9.5 lb.
Dome Dimensions:

 

 14 5/8" dia. x 15"H
Antenna Control Unit (ACU) Dimensions:

 

7"W x 2 1/8"H x 8 1/2"D
Display:

 

Two-line 20 character VFD module
Power Input:

 

9.0~30.0V DC 
Power Consumption:

 

Typical 30W, max 50W
GPS Interface:

 

Built-In (NMEA 0183 GPS)
Reception Frequency:

 

Ku-Band; 10.7 ~ 12.75 GHz
Ship's Motion:

 

Roll ±25°, Pitch ±15°
Roll and Pitch Response Rate:

 

60°/second
Turn Rate:

 

60°/second
Minimum ERP:

 

51dBW
Elevation Range:

 

 +10° to +80°
RF Outputs:

 

Dual: Circular/Linear
What's in the box
Antenna & Radome 13" Reflector and LNB
ACU (Antenna Control Unit)
PC Controller Program (Software CD included)
Installation and Operation Manual
Mounting Template
Quick Installation Guide
Installation Kit:
ACU Table Mounting Bracket × 2EA
49' Antenna-ACU RG6 Coaxial Cable
10' ACU-IRD RG6 Coaxial Cable
33' DC Power Cable
6' PC Serial Cable
Connectors & Screws
Mfg. #
 B4-209SS