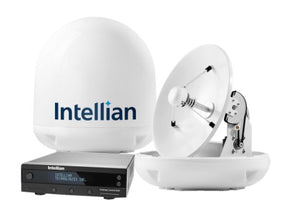 i4 US System w/17.7" Reflector & All Americas LNB
With its rugged, reliable and durable design, the Intellian i4 provides the most outstanding performance to stay locked in. It connects boaters to the premium satellite TV entertainment they want while vessels are cruising at high speed or in rough sea conditions. The i4's stylish and polished dome design makes it perfect for boats over 50 feet.
With its patent pending innovations in Wide Range Search (WRS) and Dynamic Beam Tilting (DBT) technologies, the i4 can achieve the most precise tracking performance and highest signal reception without the need of a fragile or superfluous motion sensor. An embedded GPS system can speed up satellite search and acquisition time.
The revolutionary design feature of the i4 is that it has the intelligent built-in HD and TriSat modules in its control unit. This offers boaters High Definition satellite TV broadcasts from leading satellite TV service providers without any extra conversion tools and cable wiring. Using Dish Network or Bell TV in Canada, the standard i4 enables HD channel viewing, with DirecTV SD programing is available. For DirecTV HD consider the Intellian s6HD. Combined with the new built in WiFi enables simple one-touch upgrades using the Aptus App.
With the Intellian MIM Switch (M2-TD02) sold separately, boaters can enjoy flipping channels through automatic satellite switching just like a home system. See the installation guide of DISH Network MIM for further details. For easy and flexible installation and operation, the i4 supports standard dual and quad IRD connections with its single cable design between the antenna and the antenna control unit (ACU). This simple and powerful system is manufactured in compliance with the most rigorous quality verification of ISO 9001:2001.
Features:
Fully Automated System
Automatic satellite search and identification function
2-axis step motor for controlling the antenna pedestal
High Quality Antenna
45 cm diameter of parabola-type antenna for receiving Ku-Band (10.7 12.75GHz) satellite signal
LHCP/RHCP or Horizontal/Vertical polarization
Enabling powerful signal gain
Superior Dynamic Tracking
Dynamic Beam Tilting (DBT) by rotating sub-reflector with high speed BLDC motor
Fastest Search Algorithm
Wide Range Search (WRS) algorithm
Statistical search algorithm
DVB (Digital Video Broadcasting) Signal Identification
High speed identification employing DVB decoder
QPSK demodulator lock for DSS signal
Built-in GPS System
Embedded GPS, which allows for the system to upload the GPS data automatically into the system
New Antenna Control Unit
Easy satellite information change and update via WiFi using the Aptus App
Easy antenna status check and automatic diagnosis
Easy antenna control using Aptus graphical control App
Reliable power supply to the antenna and to the MIM module
Embedded HD module and TriSat function
Industry leading 3-year parts and workmanship guarantee with a
2-year labor warranty for all antenna systems, ensuring peace of mind with
your hardware investment
All Satellite Systems include the following parts as standard:
Antenna & Radome 17.7" (45 cm) Reflector & North Americas LNB
ACU (Antenna Control Unit) with WiFi connection for upgrades
Built-in HD Module for Ku-Band HD (when available)
Built-in GPS and NMEA 0183 GPS interface
Built-in Pre-programmed Global satellite library
Aptus App, downloadable
Installation & Operation Manual
Installation Template
Quick Installation Guide
Cable Kit:

49ft (15 m) x 1EA Antenna-ACU RG6 Coaxial Cables
10ft (3 m) x 1EA ACU-IRD RG6 Coaxial Cables
33ft (10 m) x 1EA DC ACU Power Cable
6ft (1.8 m) x 1EA PC Serial Cable
 Mfg. # B4-409AA